WOMANS
(Like romans, but with a 'w')
It's 44BC, Ancient Rome. Our hero, Leta, has been declared a traitor by the Roman Senate. She is given a punishment worse than death – Damnatio Memoriae – to be erased from history. Whilst noble Gladiators and infamous Emperors around her are becoming legends, her name will be scratched out and forgotten forever. But with the help from some mischievous Muses, she decides to rebel against the Republic.
Join Leta's determined journey to reclaim her place in the history books, from crashing the Colosseum, to bargaining with Brutus, she will go to the ends of the empire to make her mark.
WOMANS is a feast for the eyes and ears, packed full of physical comedy, clowning and original music. This family show tells the raucous tale of the first female resistance.
UPCOMING TOUR DATES
Guildhall Arts Centre, Grantham Thursday 3 October 2019 @ 19:30 Tickets on sale soon
Beehive Arts Centre, Honiton Friday 4 October 2019 @ 19:30 Book tickets here
Exeter Phoenix Tuesday 8 October 2019 @ 19:30 Book tickets here
Barbican Theatre, Plymouth Saturday 19 October 2019 @ 19:30 Book tickets here
Bremhill - Rural Arts Friday 25 October 2019 - more details coming soon!
St Mary the Virgin Church, Isle Abbotts - Take Art Saturday 26 October @ 19:30 Book tickets here
Bradford-on-Avon - Rural Arts Wednesday 30 October 2019 - more details coming soon!
More dates coming soon!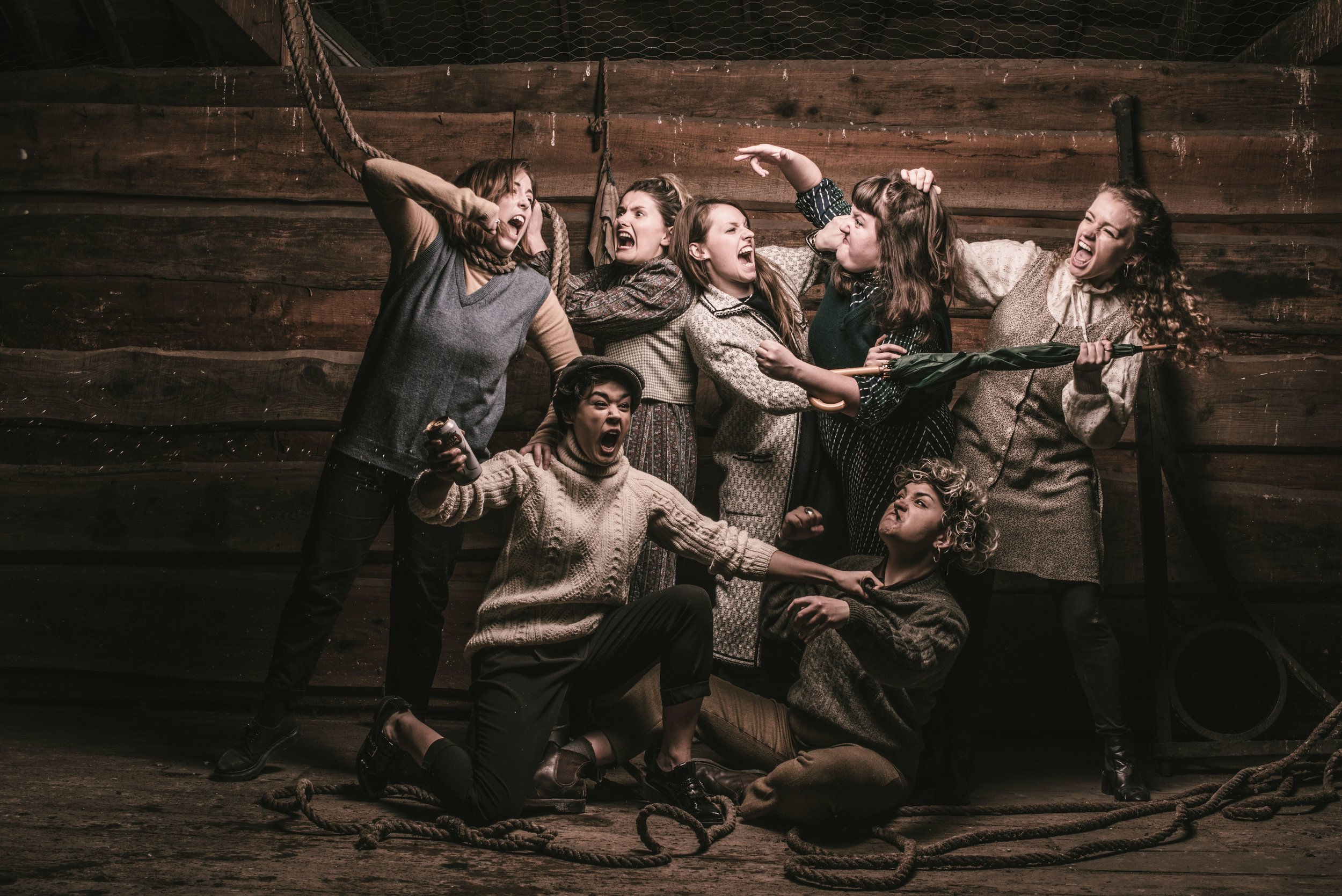 Step inside the Rebellion Playground: a place for game changers, rule breakers and agitators.
Rebellion Playground is an immersive experience for anyone who wants to see change, however big or small, but doesn't know where to begin. Find your tribe or go it alone, play the game, break the rules…or don't. Win tokens and spend them wisely… bribe, trade or save them. It's your choice or someone else's. What will you fight for?
Participants are invited to join a team, compete against others and form new alliances, all the while being encouraged to look closer, bend the rules and discover rebellious provocations hidden within the Playground. At the surface, Rebellion Playground encourages team building and creative thinking through fun, stress-busting activities. Dig a little deeper & you'll explore temptation, conformity, hierarchy & conflict.
This immersive piece of gaming theatre pushes people to confront the social and behavioural biases they live in everyday life. We encourage people to take risks, step out of their comfort zone and abandon their self-conscious side. How else can you expect to win the 'game'?
A new devised show by Scratchworks Theatre Company in Association with The Barbican Theatre
In the snowy town of Seldomberg test tubes bubble, experiments explode and new inventions whirr at the annual Science Fair. With nothing but her mother's old research book, her owl assistant Maude and her sense of adventure to help her, Faina sets off on an action packed exploration, encountering extraordinary spectacles and mountainous obstacles as they battle through the wild, wintry wilderness in search of the truth. Does The Snow Beast really exist? Can we separate stories from fact, or do they whirl together like snowflakes in a blizzard?
The Snow Beast is a collaboration between critically acclaimed theatre company Scratchworks and award-winning writer Jack Dean, in association with the Barbican Theatre, Plymouth. This brand new show is a captivating collision of storytelling, an original score and live science experiments that will inspire young audiences to engage with the beauty of the unknown and the magic of the everyday.
This project was supported by Arts Council England & Barbican Theatre Plymouth.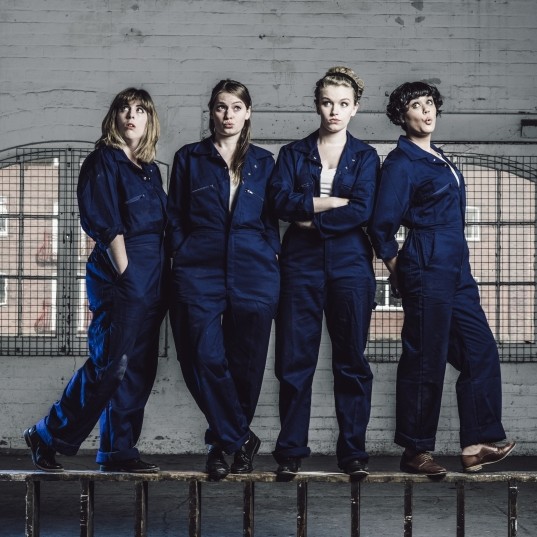 In the early hours of Thursday 8th August 1963, the heist of the century is under way. Signals are scrambled, phone lines cut and millions of pounds of cash – stolen. Five days later the first clues are found, the gang is busted and the rest is history.
But what about the ones that got away?
Join the four forgotten females as they leave behind their kitchen-sink lives and embark on a madcap adventure of mischief and mayhem. Using a raucous combination of physical theatre, live music and clowning, Scratchworks will unfold the untold tale of the unlikely female four.
'The show was a marvel to behold'
Plymouth Herald
Great Train Robbery was commissioned for the award-winning Outpost Festival 2015, hosted by New Model Theatre. For more info click here.
Meet Nel: a foley artist. Don't know what that is? Don't worry, not many do. Nel brings films to life through sound. In her world, screeching tyres are made from hot water bottles and epic fight scenes are a symphony of snapping celery and frozen cabbages. Nel is good at this stuff – it's the rest of her life that's a disaster. For the first time, she finds herself completely alone. Her cat's died and she accidentally poisoned her fish.
She needs a friend and perhaps a change of shoes.
But in a world of continuous self-comparison she feels inadequate and finding a friend in today's world can be more than a little stressful.Using a beautifully crafted mix of live music, onstage foley artistry and physical theatre, Scratchworks presents Nel's touching story about identity, friendship and what it means to be an introvert.
.
"The play is a love song to imagination"
Plymouth Herald
.
★★★★★ ★★★★★
Inter:Mission StageTalk Magazine
★★★★ ★★★★
The Public Reviews Theatre Bath .
Developed as part of a two week residency at The Bike Shed Theatre and supported by The Exeter Phoenix and Arts Council England.
Nel is available for touring. For more information download the Tour Pack here.
Previous Touring
Ustinov Studios - BATH – 22nd & 23rd January 2016
VAULT Festival - LONDON – 10th-14th Feb 2016
The Wardrobe Theatre - BRISTOL – 18th-20th Feb 2016
Salisbury Arts Centre - SALISBURY – 1st April 2016
The Pound - CORSHAM – 2nd April 2016
Battersea Arts Centre - LONDON – 14th May 2016 (Part of 'A Nation's Theatre' in partnership with The Guardian)
Pulse Festival - IPSWICH – 29th May 2016
OffBeat Festival - OXFORD – 26th June 2016
Pleasance Dome - EDINBURGH FESTIVAL FRINGE – 3rd August – 29th 2016
Trapped in a well shaft for 56 hours, a girl waits to be found. Above ground, three journalists chase the story every step of the way, framing it for media consumption and spinning it wildly, erratically and erroneously away from the truth. Inspired by true events, this tale searches for answers and scatters accusations as the rescue mission struggles on.
In the midst of the media's constant obsession with 'missing child' stories Scratchworks' original piece uses sharp new writing, imaginative tomfoolery and earthy folk music to scrutinise the media's power over public perception.
.
★★★★ ★★★★
Everything Theatre Remote Goat
.
A Fools Proof was supported by the Exeter Phoenix and the Bike Shed Framework Programme.